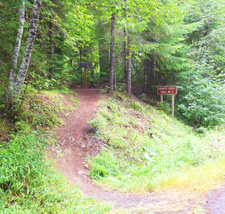 The trail gets much tougher beyond the Snagtooth Tr4 TH, with cliff exposure and increasingly steep terrain.
Check with the forest service for trail conditions, as there may be excessive treefall and maintenance is not always timely.
Several great loop options, depending on climbing ability and desired ride length.
The CW lollipop loop uses Boundary Tr1 to Summit Prairie Tr2, crossing Quartz Creek Ridge then using Quartz Creek Butte Tr5B to return to Quartz Creek Tr5.
A near-epic CCW loop with Boundary Tr1 and Snagtooth Tr4 creates an aggressive 27mi ride, with 9000' climbing, crossing some steep Boundary Tr1 terrain.
The 31mi (9400' climb) Quartz Creek Epic Ride consists of a CCW loop with Boundary Tr1 to Craggy Peaks Tr3 to Blue Lake Tr3A to Wright Meadow Tr80 and back to the TH.
This ride crosses Dark Mountain, Hat Rock, Yellowjacket Pass, Craggy Peak, Blue Lake, Wright Meadows, with a bit of Lewis River Trail to cool down.
Bring food and water, start early and consider camping..