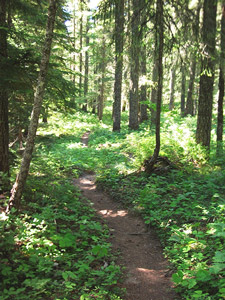 There are two FR30 access points, at the southern Falls Creek Tr152 TH (2mi on FR3062 to the TH) and at the northern McClellan Meadows Tr157 / Oldman Pass Tr154 TH (riding from the Valley Ski Tr151 TH).
Covered in the guide below, the best way to experience Falls Cr Tr152 is to shuttle from Oldman Pass, a very popular 16mi (1400' ascent, 3100' descent) ride which starts at Oldman Pass Sno-Park, riding Snofoot Tr150 or Valley Ski Tr151 to McClellan Meadows Tr157, then Falls Creek Tr152 to the FR3062 TH.
Note: The lower TH is at the midpoint of Falls Creek Tr152. The lower road (FR3062 has been decommisioned along with that parking area).
A more challenging option is to start at Old Man Pass and ride McClellan Meadows Tr157 then Falls Cr Tr152 to the cliff exposure section and back for a total of 27.5mi and (3500', 15% ascent), a slightly inverted, but rideable elevation profile.
Expect to pass hikers on the steep cliff exposure section, which also includes a few drops and a loose gravel surface.
Shuttle this ride if at all possible. An 8mi OAB option would be to park at the FR6700 5-way intersection and climb to the FR6500 TH.
Bring some lighting and check out the lava caves, located near the mid point of Falls Cr Tr152.
More for hikers, the Lower Falls Cr Tr152A starts from FR3062 and follows the southern banks of Falls Creek through old growth forest for 1.5mi.
Lower Falls Cr Tr152A crosses a rock gorge cable suspension bridge, providing a view of Falls Creek white water, then continues uphill for 0.7mi to the base of the waterfall.
From the FR3063 TH, a 20mi (3700' ascent) OAB is possible, but expect to hike-a-bike the first 2mi and many other sections along the way, due to the often rocky and rooty terrain.
Directions from FR90: FR90E to Curley Cr Rd (just prior to the Lewis River TH). Turn right onto Curley Cr Rd then go 6mi to FR30. Turn right onto FR30 and go 3mi to Old Man Pass.