Boundary Tr1 defines the upper boundary of the Saint Helens National Volcanic Monument and extends from Coldwater Lake to Council Bluff (near Mount Adams).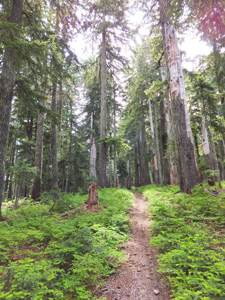 The terrain is steep and somewhat exposed between FR25 Norway Pass and FR26 Elk Pass, and Boundary Tr1 crosses Strawberry Ridge Tr220 along the way, winding in and out of the 1980 blast zone.
The section between Bear Meadow and Elk Pass is open to motorcycles, with the steep sections rutted out and generally loose pumice gravel conditions over most of that section, which would otherwise be classic Northwest singletrack.
A small bridge is out on the section which parallels FR99, near Bear Meadow Viewpoint. That section appears unused and slowly returning to nature, so consider a road ascent to the viewpoint.
The eastern approach is from Council Bluffs, at the eastern end of Boundary Tr1, covered on the High Lakes Tr116 page.
The western section of Boundary Tr1 is covered on the Mt Margaret Tr230 page.
Boundary Tr1 crosses FR29, 2.5mi to Dark Meadows, to the junction with Tr5, then 5.5mi to Summit Prairie and 7.9mi to Table Mt and 1.5mi to Council Lake.