Abraham Trail 216D and Ape Canyon Trail 234 Area Mountain Biking and Hiking Topo Map
Map includes Abraham Trail 216D, Ape Canyon Trail 234, Loowit Trail 216, Smith Creek Trail 225, Willow Springs Trail 207 Mountain Biking and Hiking Trails.
TH: The ride starts with a .5mi rooty section alongside the usually dry Muddy River drainage, followed by the first great view of St Helens and 1mi of undulating trail.
1.5mi: Enter the switchback section, with a 1.5mi, 14% climb through 5 switchbacks, followed by a brief descent then a more gradual 1.5mi climb to the top.
4.6mi: Reach Butt Crack, formed by the lahar flow to Ape Canyon during the eruption. This is the beginning of the Loowit Tr216 section, which starts with a very narrow, cliff exposure section which often needs to be walked. This portion of the trail is undercut by erosion and at times can be quite dangerous. If you fall, you won't be doing anything else for the rest of the day...or maybe ever.
5.3mi: After traversing several drainages, Loowit Tr216 reaches the top of a waterfall, with a great view of Smith Creek and Mount Adams. The drainages can have significant flow from Spring till July and should be very carefully crossed if still snow packed, due to the high risk of breaking through the snow and becoming trapped. After the waterfall, the trail opens up onto the Plains of Abraham, with a slight grade and flat terrain.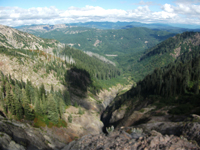 6.2mi: Reach the Loowit Tr216 intersection, continuing straight onto Abraham Tr216D. Go through a drainage then a switchback ascent, followed by a descent to the Willow Springs Tr207 staircase and ridgeline trail over to FR9900. The ridgeline section consists of a narrow trail with moderate slope on each side, which tends to get the attention of most riders. Willow Springs Tr207 is 2mi, with an 800' ascent, and is not included in the length or stats for this ride.
Draggable map: Map window adjusts to screen size and will respond to touch control. Use scrollbar for mouse control.
No Map? Browser settings and some browser extensions can prevent the maps from appearing. Please see Site Tech