Metolius-Windigo Trail 99, Tumalo Creek Trail 25.1 and Tumalo Ridge Trail 25.2 Area Mountain Biking and Hiking Topo Map
Map includes Flagline Trail 41, Metolius-Windigo Trail 99, North Fork Trail 24.2, South Fork Trail 25, Swampy Lake Trail 23, Swede Ridge Trail 52, Tumalo Creek Trail 25.1 and Tumalo Ridge Trail 25.2 Mountain Biking and Hiking Trails.
TH: The ride starts at the FR430 intersection (FR430 goes to Tumalo Lake). It's easy to head in the wrong direction from the Skyliners Sno-Park TH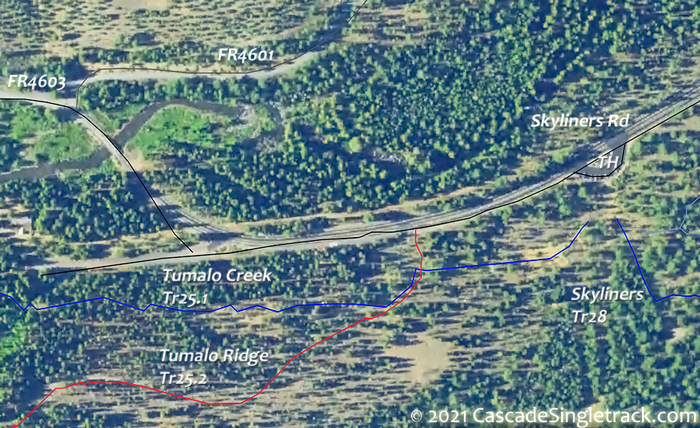 View of the Skyliners Sno-Park TH, so check the map or ask a rider. Go right and follow the doubletrack for 1.3mi. Bear left at the fork and the trail turns to singletrack. Expect hikers on this easily accessed trail section.
2.3mi: Cross the south fork of the Tumalo Creek then go right onto South Fork Tr25. At the Tumalo Falls TH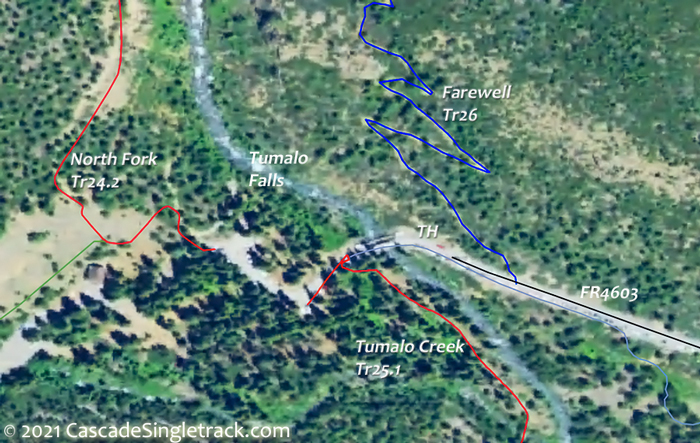 View of the Tumalo Falls TH, go right onto North Fork Tr24.2 at 2.7mi and hike-a-bike .3mi to the top of the falls, then ascend North Fork Tr24.2. Bear left at 3.2mi, past several Falls viewpoint trails.
5.2mi: Cross the middle fork of Tumalo Creek and tackle the final ascent to Swampy Lake Tr23, the steepest section of this ride.
6.3mi: Go left onto Swampy Lake Tr23 and ascend .3mi around the ridge, the ride summit. Cross the middle fork of Tumalo Creek at 6.7mi and Spring Creek at 8.4mi as the trail drops off several ridgelines in a wild descent.
9.1mi: Pass the Bridge Creek 4way intersection, then cross Bridge Creek. Pass South Fork Tr25 and creek on the left at 9.9mi, then ascend 600' to Swampy Lakes, through a series of switchbacks (noting why mid-ride ascents are not so great).
11.7mi: With the Swampy Lake ascent over, go past a small crescent lake on the right and go left at the next fork, then go left at the T intersection (near the Swampy Lakes shelter) and ride around Swampy Lakes, then at 12.2mi go left at the Swede Ridge Tr52 intersection.
14mi: At the intersection with Sector 16 Tr27, go left onto FR100 (towards the Swede Ridge shelter).
15.9mi: Go right onto the second doubletrack on the right, then go then right onto Tumalo Ridge Tr25.2. Ride to the edge of the ridge at 16.9mi, then descend the steep ridgeside.
18.1mi: Bear right at the fork and head back to the TH.
Draggable map: Map window adjusts to screen size and will respond to touch control. Use scrollbar for mouse control.
No Map? Browser settings and some browser extensions can prevent the maps from appearing. Please see Site Tech