Lemish Lake to Charlton Lake Tr19 is a CW loop of Metolius-Windigo Tr99 and Charlton Lake Tr19.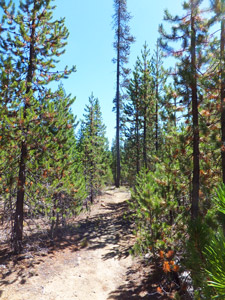 Some of the other Metolius-Windigo Tr99 rides are covered on the Tumalo Tr25, Swampy Lake Tr23, Sparks Lake Tr4, High Cascades and Upper Three Creek pages.
If staying in the area and looking for a short/easy ride, the loop can be reduced to 8.5mi with Clover Meadow Tr21.
Passenger cars may not be able to reach the Clover-Lemish Tr18 FR4636 TH. Charlton Lake is a good alternate TH, especially if traveling from west of Waldo Lake. Metolius-Windigo Tr99 is better suited for the ascent, making CW the best loop option.
The Charlton Lake Tr19 to Metolius-Windigo Tr99 loop is often lengthened by extending the ride to Cultus Lake or Waldo Lake Tr3590.
Other Waldo Lake rides are covered on the South Waldo Lake page.
The addition of any other area loop with the Charlton Lake Tr19 - Metolius-Windigo Tr99 loop will create a 'twin peak' ride profile, usually not a good thing, but the moderate area terrain enables reasonable mid-ride ascents.
In contrast to these lakeside rides, something far more epic is possible, by extending the ride to the east side of Waldo, on Waldo Lake Tr3590, then 'return' on Betty Lake Tr3664, Bobby Lake Tr3663, Moore Creek Tr3840 and Metolius-Windigo Tr99, a 36.5mi (4700' ascent) CCW loop.
Big Loop Epic
As with the Lemish to Charlton ride, Charlton Lake is a good alternative TH and due to terrain and trail surface conditions, CW is the best loop option.
TH: Ride Clover-Lemish Tr18 to Lemish Lake, then go left onto Metolius-Windigo Tr99 and ascend past Clover Meadow Tr21 to the Charlton Lake Tr19 intersection on the right.
6.8mi: Pass the Charlton Lake Tr19 intersection on the right and continue the ascent to The Twins Tr19.2, then enjoy the long descent to FR400.
15mi: Go right onto Moore Creek Tr3840 and ascend to Bobby Lake Tr3663 at the Pacific Crest Tr2000-E intersection.
22mi: Cross FR5897 then go right onto Betty Lake Tr3664 and descend to the Waldo Lake Tr3590 intersection. Traverse the east side of Waldo Lake, then cross FR5898 and continue to Charlton Lake Tr3593
29.5mi: Go right onto Charlton Lake Tr3593 and ascend to Charlton Lake, then continue on Charlton Lake Tr19 at the lakeside. After a brief ascent to the Clover Meadow Tr21 intersection, descend to Lemish Lake and continue on to the TH.
Note: Due to loose trail surface conditions, The Twins Tr19.2 is only suitable as a downhill ride, starting from FR5897.
Hiking: Charlton Lake Tr19 to Lilly Lake Tr19.3 is a 12.5mi (1750' ascent) hike.
Mosquitoes are ferocious in this area until August. Feel free to try the natural repellents, and avoid drinking carbonated drinks prior to riding, but Deet 100 may be the only protection from 'the swarm'.