Bachelor to Bend: Flagline Trail 41 and Metolius-Windigo Trail 99 Area Mountain Biking and Hiking Topo Map
Map includes Flagline Trail 41, Flagline Access Trail 40.1, Flagline Tie Trail 41.1, Metolius-Windigo Trail 99, Swampy-Dutchman Trail 40, Swampy Lake Tr23, Swampy Loop Tr23.2 and Swede Ridge Tr52 Mountain Biking and Hiking Trails.
Note: Flagline Tr41 is only open from Mid-Aug till it becomes snowed-in again, limiting the access to this ride.
TH: From the end of the Swampy Lakes Sno-Park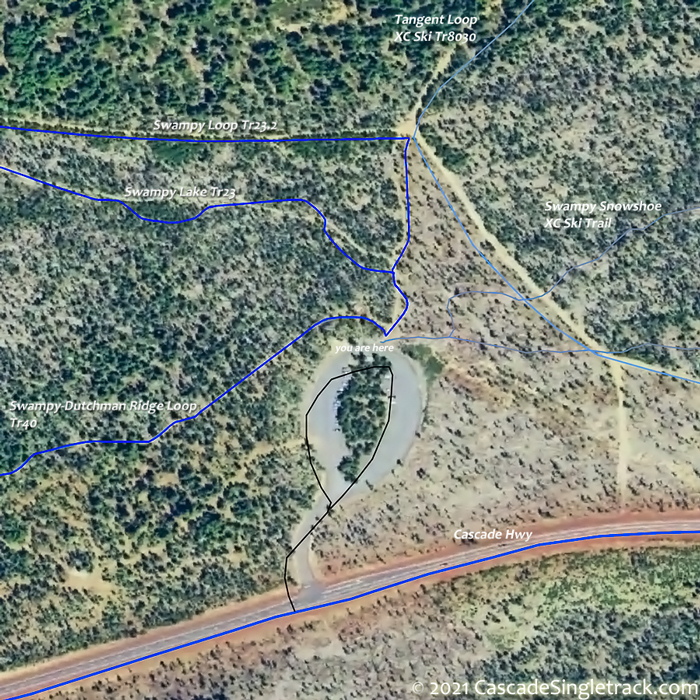 View of Swampy Lakes Sno-Park TH parking circle, go on the left (western) trail, then bear left to remain on Swampy-Dutchman Tr40 and ascend to the Flagline Tie Tr41.1 2.7mi intersection on the right. This completes the first of three increasingly challenging (but moderate) ascents. Descend and pass a Cascades trail connector at 3.5mi on the left, then gradually ascend alongside Cascade Hwy before dropping into the Dutchman Flat TH.
7.1mi: Cross the Dutchman Flat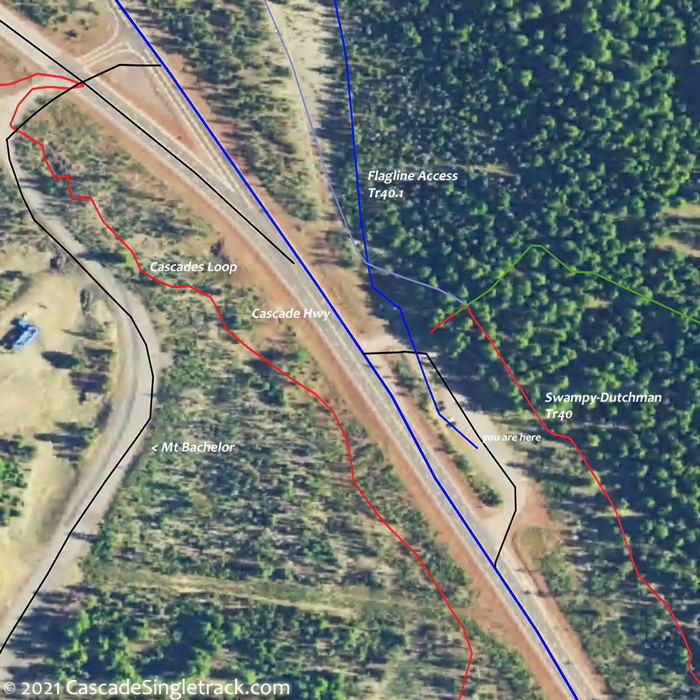 View of the Mount Bachelor Dutchman Flat TH parking area and begin the Flagline Access Tr40.1 (western flank of Tumalo) ascent, trying not to be distracted by the many side trails along the way to Flagline Tr41. The Mount Bachelor XC Ski area consists of a maze of trails. The climb is more intense than the first two ascents, but still reasonably moderate.
9.2mi: Go right onto Flagline Tr41 and ascend the remaining 600' along the northern flank of Tumalo Mountain, to the ride summit at 10.7mi. Descend past the Flagline Tie Tr41.1 intersection on the right at 13.5mi, to the Swampy Lake Tr23 intersection.
14.8mi: Go right onto Swampy Lake Tr23 and return to the TH, or go left and around Swampy Lake, to Swede Ridge Tr52, then back on Swede Ridge Loop Tr8026 to the TH.
Draggable map: Map window adjusts to screen size and will respond to touch control. Use scrollbar for mouse control.
No Map? Browser settings and some browser extensions can prevent the maps from appearing. Please see Site Tech