COD Trail 71, Funner, Storm King Trail 48 and Tiddlywinks Area Mountain Biking and Hiking Topo Map
Map includes COD Trail 71, Deschutes River Trail 2.3, Elfin Magic Trail 45, Funner, KGB Trail 72, Storm King Trail 48, Tiddlywinks Mountain Biking and Hiking Trails.
TH: Ride from the Woodside Loop Rd TH, or the KGB Tr72 TH. Reach another small Cascade Hwy TH at 1mi, then hike-a-bike .3mi up a steep hillside. After a brief section of technical singletrack, pass the Elfin Magic Tr45 #23 intersection on the right at 1.7mi, bearing left to stay on COD Tr71. Cross a doubletrack at 2.1mi and approach the Cascade Hwy at 3.2mi. The ride then parallels the highway as it steeply ascends a drainage, reaching FR4615 at 5.2mi after completing the steepest climb of the ride.
7.5mi: Go left onto Storm King Tr48 at #32 intersection, cross the Cascade Hwy then ride to the Funner #34 intersection.
8.3mi: Go right onto Funner at the #34 intersection and ascend gradually in a parallel track with the Cascade Hwy alongside Big Spring. Cross FR4613 at 9.2mi, with the ascent moderating at 10.7mi, then cross FR4614 at 11.7mi.
12.5mi: At the Wanoga Sno-park TH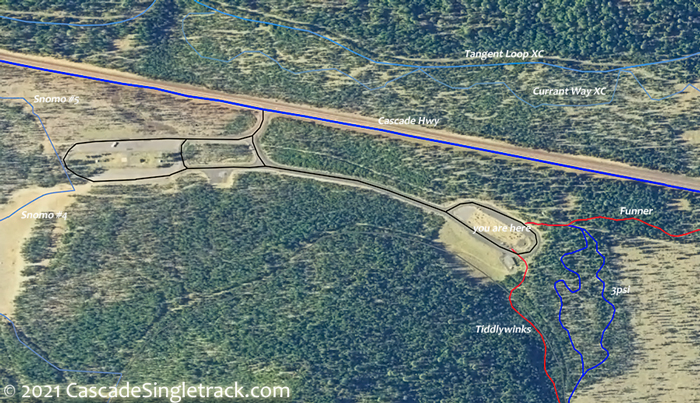 View of Wanoga Sno-park TH bear left around the restroom building to find the Tiddlywinks TH. Cross FR4614 at 12.9mi and FR4613 at 14.7mi, over relatively level terrain. Climb to the Kiwa Butte ride summit at 15.4mi, followed by a wild, 4mi corkscrewing descent to intersection #34.
19.4mi: Go left onto Storm King Tr48 at #34 intersection and return on COD Tr71 or extend the ride by using Grand Slam Tr44 to Elfin Magic Tr45 to COD Tr71 as the return.
Draggable map: Map window adjusts to screen size and will respond to touch control. Use scrollbar for mouse control.
No Map? Browser settings and some browser extensions can prevent the maps from appearing. Please see Site Tech