Bens Trail 50 and Skyliners Trail 28 Area Mountain Biking and Hiking Topo Map
Map includes Bens Trail 50, Phils Trail 42, Kents Trail 43, MTB Trail 51, Sector 16 Trail 27, Skyliners Trail 28, Storm King Trail 48 Mountain Biking and Hiking Trails.
TH: Start this 16mi, 1300' ascent ride on Phils Tr42, crossing a doubletrack at .8mi and passing the KGB Tr72 'flaming chicken (swan? vulture?)' at 1.9mi, going straight through the 5-way #7 intersection. The incline increases some as the trail winds up a drainage to FR4615 Big Burn Rd, running parallel to Voodoo Tr46 over most of the ascent.
3.7mi: Cross FR4615 Big Burn Rd then pass the Kents Tr43 #18 intersection on the right at 4.5mi, bearing left at the fork intersection. Pass through the Voodoo Tr46 #19 intersection at 4.8mi, then cross a doubletrack at 4.9mi and FR300 at 5.9mi. Dogleg to the left on FR300 then rejoin Phils Tr42 on the right.
7.4mi: Pass the 'helipad' rock garden and go right at the Storm King Tr48 #28 intersection at 7.9mi.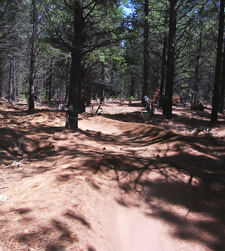 8mi: After a fast descent, go right at the Bens Whoops Tr50 #29 intersection (near the sign), ready for some big bumps and banked curves. The trail directly ahead is for ascending back to the start of the Whoops section.
10mi: Just after crossing FR300, pass the Whoops parking area. Cross doubletrack two times before reaching the Voodoo Tr46 #17 intersection at 11.2mi. Go right onto Voodoo Tr46, then go left onto Kents Tr43 at 11.9mi at #19 intersection. Ride back to the TH.
Draggable map: Map window adjusts to screen size and will respond to touch control. Use scrollbar for mouse control.
No Map? Browser settings and some browser extensions can prevent the maps from appearing. Please see Site Tech