Arnold Ice Cave Trail 3963, Coyote Loop Trail 3962 and Swamp Wells Trail 3961 Area Mountain Biking and Hiking Topo Map
Map includes: Arnold Ice Cave Trail 3963, Bessie Butte Trail 3968, Boyd Cave Trail 3966, Coyote Loop Trail 3962, Fuzztail Butte Trail 3965, Skeleton Cave Trail 3967 and Swamp Wells Trail 3961 Mountain Biking and Hiking Trails.
TH: Head south from the Horse Butte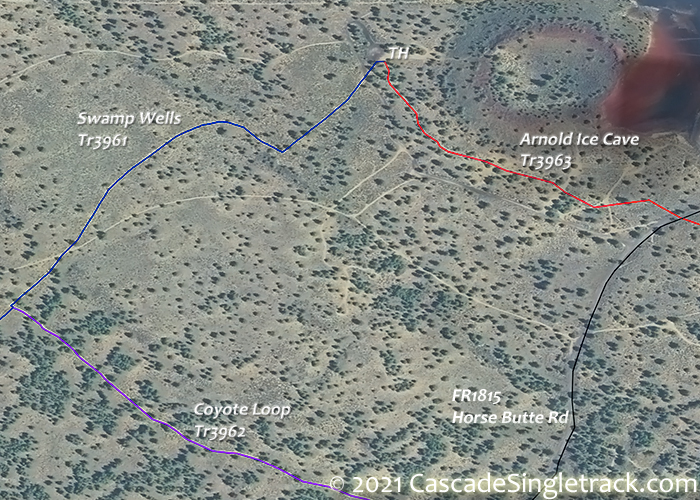 View of the Horse Butte TH on Swamp Wells Tr3961, passing the upper Coyote Loop Tr3962 TH at .5mi and crossing FR18 at 2.3mi. Pass the Bessie Butte Tr3968 intersection on the right at 2.4mi, a spur ride option. Cross several marked and unmarked doubletracks, including the FR1814 crossing at 5.5mi.
6.5mi: Ascend the northern Kelsey Butte flank (250' climb), then switchback and ride around the butte. Ride around a smaller, unnamed butte at 9.5mi. Cross FR1816 at 11.6mi, then pass the Swamp Wells Loop Tr33961.1 (a Coyote Loop Tr3962 connector trail) intersection at 12.1mi.
13.8mi: After riding around the base of a large butte (the ride summit), go right at the Coyote Loop Tr3962 intersection (another return loop option). Pass the Swamp Wells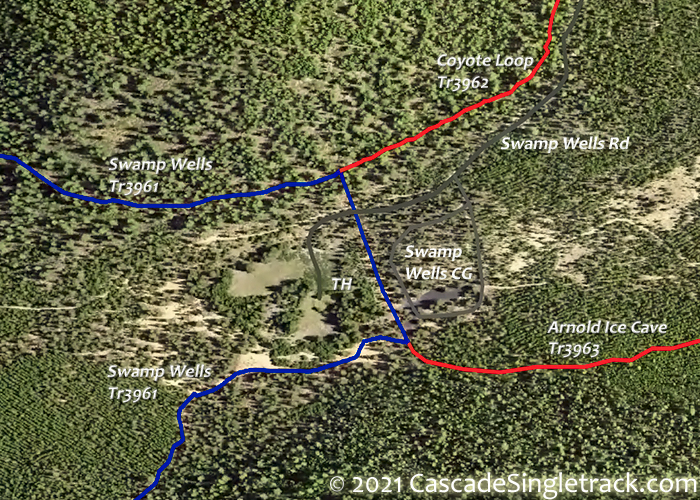 View of the Swamp Wells TH then cross Swamp Wells Rd and go left onto Arnold Ice Cave Tr3963 (near the base of Swamp Wells Butte).
17mi: After crossing Orv20 several times, cross FR1820 then Swamp Wells Rd. Cross the Charcoal Cave Rd at 19.6mi then pass Arnold Ice Cave at 19.9mi and cross FR1820 at 20.2mi.
21.4mi: Cross a doubletrack then merge with it, just prior to crossing FR18. See Topo Map for this area, as there are a large number of unmarked double roads, so some pathfinding is required. Remain on doubletrack and go right at 22.1mi. Go left onto the singletrack at 22.3mi, towards Skeleton Cave, crossing the Skeleton Cave road at 23.6mi.
24.1mi: After merging with doubletrack, reach the Boyd Cave Tr3966 intersection on the left. Go straight then find the singletrack on the right at 24.3mi. Follow a drainage, then go west at 25.5mi and head back to the TH.
Draggable map: Map window adjusts to screen size and will respond to touch control. Use scrollbar for mouse control.
No Map? Browser settings and some browser extensions can prevent the maps from appearing. Please see Site Tech